WHY WE DO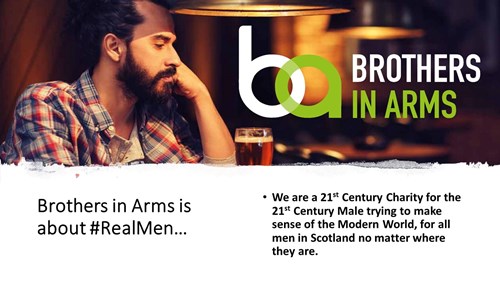 Save the Male,
As a man, being affected by mental illness isn't a sign of weakness. The 21st century throws more and more at us, that we as men are just not designed to cope with. There's too much going on, and we can't be expected to handle it all on our own. Sooner or later, you will get man down.
In this modern world, everyone seems to be connected to everyone else through social media, yet somehow, all of these connections mean that we tend to talk 'at' each other, rather than 'to' each other. Looking for support doesn't make you any less of a man, in fact, it's the exact opposite. The stereotype that 'women are emotional' and men should be the 'strong silent type' doesn't help either gender. We're all just people.
As a man sometimes we find it difficult to talk, or the opportunity doesn't present its self and we fear being judged for it being seen as a sign of weakness.
Our strategy is to reach out to men in Scotland, no matter where they are (especially remote and rural areas) and to provide the free tools and means that empowers them to support their own mental-fitness through self-management in private and with confidence, their own Digital Safe Space.
We will use:
DIGITAL. To provide support.
FILM. To create awareness.
SOCIAL. To share the story.
#WeAreBrothers #BrothersNeedSisters #EveryBrotherHasAMother