Dan founder of BIA
''I have been there, suicide is the biggest killer of men under the age of 45,  at the age of 40, I contemplated taking my own life''
And it was 50/50 which way it could have gone...
I have found over many years in my experience we as men definitely find it harder to talk about our emotions or what is troubling us.
Today's society forever tells us to man up, stiff upper lip, get on with it, and have come to realise that we need to start learning that it is okay to seek and find help about things that occupy us emotionally.
We also should know that there are other ways to cope with these issues other than choosing risky behaviours like using alcohol, drugs or gambling, to avoid facing what life is throwing at us.
I like to think that as a man talking about these things is the best way of dealing with them, and engaging with other men and sharing, especially can help.
But as a male, we are taught to not talk about our emotions, and there's the rub instead, we only talk about football or what's happening in the news, but not about what is happening in our own lives.
We have to change that, so as to give men permission and means to look at other ways to support and self-manage the things that are troubling them. And to share that experience with other men so that they see they are not alone and is a positive experience.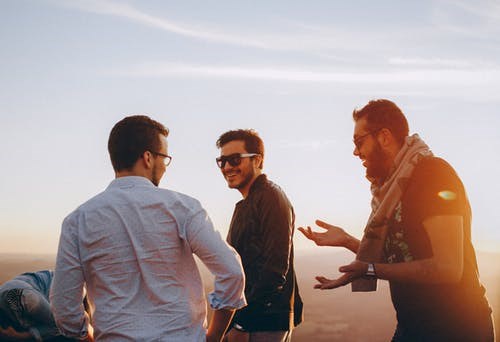 ''You have to wear this suit of armour. You put it on and you create a character and that's what you present to the outside world. But sometimes what's going on inside is a totally different thing, you're crumbling and there is no one to talk to''
I have been there...
Suicide is the biggest killer of men under the age of 45 in the UK.
At the age of 40, I contemplated taking my own life. It took fifteen years of a journey to learn both to talk with other people and to recognise that my own mental wellbeing needed to be managed by me so that I could become at peace with myself.
Most men don't have fifteen years to find that inner understanding of what makes them 'tick' in fact they are lucky to find any time at all before going on what society sometimes thinks is the eventual downward spiral towards being another suicide statistic.
At BIA we absolutely don't accept that this is somehow predetermined and believe there are alternatives for men especially around the use of new technology.
So that they get to a point where they can learn to look at prevention and self-management as an everyday event and don't start getting to that place that might lead them down a path where eventually they take their own lives.
What we call 'Prevention through Self-Management' because waiting until a man reaches crisis before he gets help is like throwing a lifebuoy ring into the water when already drowning
For me at that time, I didn't feel I could talk to anyone. I went through a period of risky behaviour. I didn't entertain the idea of trying to get help, either going to a doctor or speaking to someone because I thought, I'm a man, we don't do that. 
There was a fear of 'being judged' that it would be seen as a sign of weakness  It took me years to realise speaking to someone is not a problem.
We need to get to men at the start of the journey when they are starting to experience these issues or situations. This is what Brothers in Arms are about.
We are a gateway for men and those that support them to go to, and see they are not alone in feeling the way they do, and more importantly that there are tools, support services and links to help and resource's that are free to use.
My mental health problems were triggered by childhood trauma and it was only five years ago that I was actually diagnosed with post-traumatic stress disorder. It was brilliant to know what I was suffering from.
But at 40 when I contemplated suicide, it was the birth of my first daughter that prevented that. I was lucky in some ways, if not for her, who knows what would have happened.

As a man you are brought up and society dictate that you can't talk about your feelings, you can't talk about what is going on in your head.
You have to present yourself as somebody who is impervious to anything and everything. Especially when it comes to the emotions inside your brain.
You have to wear this suit of armour. You put it on and you create a character and that's what you present to the outside world. But sometimes what's going on inside is a totally different thing, you're crumbling and there is no one to talk to.
It is not something you would share with your mates because we don't do that. It adds to what men are dealing with. Society is better with this now than ten years ago, but we are still not anywhere near where we should be regarding men and their mental health.
Male identity is at a crisis point.
How can men find a sense of themselves amongst such narrow and conflicting ideas of masculinity? And what impact is the male identity crisis having on men's mental health?
Here, psychological counsellor, Fraser Smith (Video), shares his research into the impact of male identity and makes a heartfelt case for us to adopt a new way of thinking about what it means to be a man in 2019.
"Rather than patronisingly insist men to 'talk more', then blame them when they don't, technology has shown that perhaps it's time to change how – and where – we listen to men.
Rather than expect men to self-present at their GPs and talk face to face, perhaps we need to take the conversation to them, via technology we know they are already comfortable with,''
from  AI and the secret life of men, Pete Trainor, Co-Founder, Strategic Design Lead, Ai Lead at Us Ai.
I believe that men can't speak about mental health because they are not shown how to speak about it, even from the people they look up to. Whether that be a father figure or a mentor, if they don't show emotion or talk about things, you take that on board and think that if they don't do it, then I can't do it.
It's not part of our language and is not part of how we communicate. From my own personal experience of growing up without a father and because of poor choices made by my mother, every subsequent male figure was of the 'toxic' variety and contributed to the childhood trauma I experienced and was to be part of what shaped, affected and dictated all my life decisions up until nearly 20 years ago.
We can change that and by doing so help reduce the statistics, by becoming positive male role models for young boys in Scotland so that they can learn to build healthy relationships with those around them. This will hopefully set us on a path towards equality, where we all succeed together.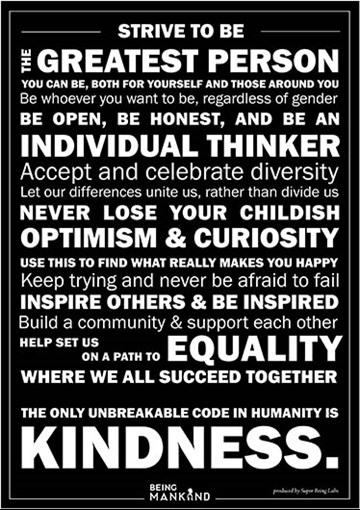 Men take their own lives because they feel there is no other way out. At BIA we believe that by giving them tools that they can use in private and with confidence along with men's peer groups, a simple but effective way of sharing experiences, can make a huge difference in how men carry on with their lives.

The idea of Brothers in Arms came after I volunteered with See Me Scotland and quickly realised that we did not have a Charity that represented both men and the high male suicide rate here and after looking at other sites, like Calm Zone and Andy's Man Club, thought let's do something in Scotland of our own.
We are an inclusive and supportive society and should have something like this.
Brothers in Arms started because we wanted to change that, so with me as founder and conception, Martin Smith and Rob Booth, digital magicians and reality makers, and Duncan Cowles storyteller and film producer.
BIA was born as a website and social media platform for men whether at the start or in the middle of a journey, who might be having emotional difficulties or are finding it a challenge in talking about what is going on in their own head.
But it was after meeting and talking to  Dr Andres Fonseca, who had previously worked for the NHS and had created technology that showed the potential for how men could interact digitally to support their own mental fitness, that we knew we could now have something that would create a positive change, not only for men but those that support them.
They can go on the site and see there is something there for them, lots of information, stories and support and shows men they are not alone.
When men and those that support them see the site I want them to connect, send us a message, maybe share their story and use our services. It is creating a brotherhood but is also connecting, wives, son's, daughters, mothers, partners and fathers.
I want men to know that they are not alone, you don't have to deal with your situation in isolation. It is better that you are part of something and you can share and be supported, not get to that negative place you can get to sometimes. Come to Brothers in Arms we are here for you.
So here is my commitment, I am going to give the next 10 years, to attempt to grow, steer, develop BIA through Scotland.
We have the infrastructure and the capacity to reach not only all men no matter where they are in Scotland, but with the advent of 5G, we are in the perfect place to take advantage of the changes that it will bring especially with the rapid changes to come with digital technologies.
And we are learning along with our digital partner's ways that we could, in theory, grow the service out with Scotland to other places that need it (Ireland comes to mind)
At the moment our model means a low-cost platform as we are volunteer-based, with no salaries paid, those of us who set up the charity have careers outside of it, I work p/time so as to give as much as needed, it's fair to say this is a passion (as anybody who has been in my company will testify)
And as someone who had his own business for many years, you only reach your goals with commitment, focus and 100% relentless drive on the main goal, to reduce male suicide in Scotland and maybe elsewhere.
I don't know if the model will change, funding is always going to become something that is essential if we are to provide the support services for free, but the idea is to in ten years hand over the charity to someone or others to hopefully continue the mission.